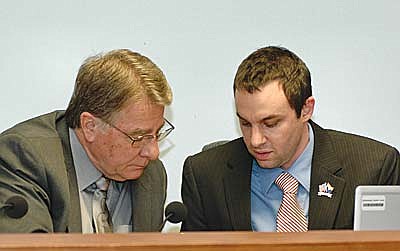 Sen. Steve Yarbrough and Rep. J.D. Mesnard confer about proposed changes in state income taxes. The special panel Mesnard is chairing is recommending collapsing income tax brackets, future indexing -- and moving toward a single rate. (Capitol Media Services photo by Howard Fischer)
Stories this photo appears in: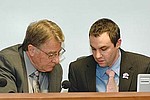 PHOENIX -- A special legislative panel voted Thursday to reduce the number of state income tax brackets from five to three, with an eye on eventually creating a single tax rate.The vote, which occurred over the objection of the two Democratic lawmakers, also includes a recommendation that, as long as the state has tax brackets, that they be indexed to account for inflation. In essence, if someone's income rose no faster than the cost of living, there would be no danger of being thrown into a higher tax bracket.
By Howard Fischer
December 13, 2013