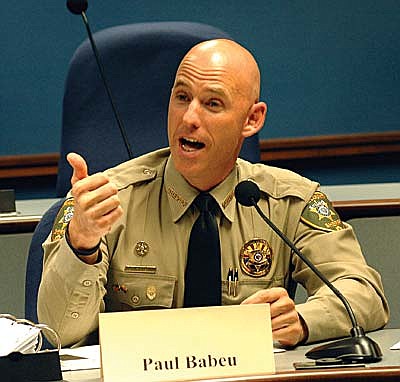 Pinal County Sheriff Paul Babeu lashes out Wednesday at Congress and federal immigration officials for failing to secure the border while discussing an immigration reform proposal. Babeu told a legislative committee the border could be secured if there were the political will to do it. (Capitol Media Services photo by Howard Fischer)
Stories this photo appears in: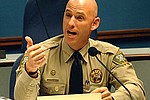 PHOENIX -- A legislative panel may be ready to jettison plans to try to build a border fence, having gathered less than $265,000 in donations over three years.Rep. David Stevens, R-Sierra Vista, co-chair of the committee, said Wednesday that the original plan, approved by lawmakers in 2011, may be unworkable. It envisioned a new fence on private property, with the consent of landowners, which could cover about a third of the 370-mile international border.
By Howard Fischer
November 7, 2013