Secretary of State Ken Bennett conceded that is likely to create a bit of a headache for county election officials. They will have to either maintain entirely separate voter registration rolls or, at the very least, have a special "flag'' on those who signed up to vote without providing citizenship proof.
Stories this photo appears in: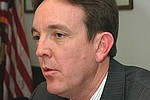 PHOENIX -- Secretary of State Ken Bennett is directing election officials to separate their federal election ballots from state and local races to keep those who cannot prove citizenship from voting in the latter.
By Howard Fischer
October 8, 2013