A Trans World Airlines Lockheed Super Constellation (left), the type of plane involved in the 1956 collision above the Grand Canyon (photo by Trans World Airlines via Jon Proctor) and a United Airlines DC-7. (United Airlines Photo via National Park Service)
Stories this photo appears in: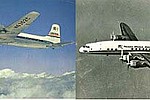 PHOENIX - On the morning of June 30, 1956, a Trans World Airlines L-1049 Super Constellation and a United Airlines DC-7 collided 21,000 feet over the Grand Canyon, near the confluence of the Colorado and Little Colorado rivers. All 128 people aboard the planes died.Marshall Trimble, Arizona's state historian, was 17 when he heard the news on a car radio. He and his date looked at each other in shock."I think something like two planes colliding over the Grand Canyon was something that people thought couldn't happen, but it did happen," he said.
By BY MORIAH COSTA
April 29, 2014