A voting sign outside Maricopa County Recorder's Office early tabulation center during the 2012 general election. (Cronkite News Service Photo by Natasha Khan)
Stories this photo appears in: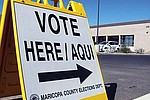 PHOENIX - Yuma, Pinal and Coconino counties had Arizona's worst overall election performances in 2012, according to a report released Thursday by a progressive advocacy group.The analysis by the Center for American Progress Action Fund ranked counties based on turnout and registration rates, provisional ballots cast and rejected, absentee ballots rejected and registered voters removed from the rolls. It examined 17 states where the margin of victory in the presidential election was 10 points or less.
By BY CAITLIN CRUZ
January 17, 2014