Arizona saw the second-biggest drop in revenues from the closure of natinoal parks during the partial shutdown of the federal government in October, according to a new National Park Service report. (Chart courtesy the National Park Service)
Stories this photo appears in: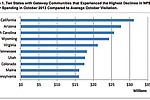 WASHINGTON - Arizona saw a $27 million drop in spending at its national parks during October's partial federal government shutdown, with $17 million in losses at Grand Canyon National Park alone, according to a new report.The Department of the Interior report released Monday said that Arizona had the second-highest losses in the nation for the shutdown, trailing only California, which lost $31 million. The losses were based on park spending in October 2013 compared to the average park spending for the same month over the preceding three years.
By By Colton Gavin
March 5, 2014