Library volunteer Thomas Hofmann (left) assists Michael Bosco with computer access.
Stories this photo appears in: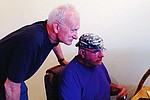 When Dotte Vande Linde moved to the Village of Oak Creek in 1994, the Village had no public library services. After serving at the main library as a volunteer and on the staff, Dotte, along with a committee of VOC residents and David Keeber, the Library Director of SPL in 2005, developed a plan to open a library service center in VOC.