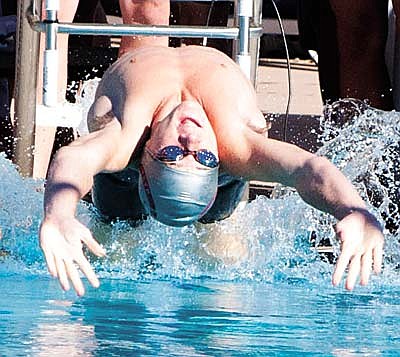 Junior Caleb Furey, competing here in the backstroke, finished 16th in the 100-meter breaststroke with a time of 1:04.55 during Friday's prelims. Photo courtesy of Vickie Tillemans/Blink Photography
Stories this photo appears in:
Mingus Union High School swimming finished its season on Saturday. Eight swimmers qualified for the State tournament at Mesa Skyline Aquatics Center. Of the eight swimmers, it just happened to be equal as far as boys and girls. Four Marauders boys swimmers made it and so did four Mingus girls swimmers.
By Derek Evans
November 11, 2014