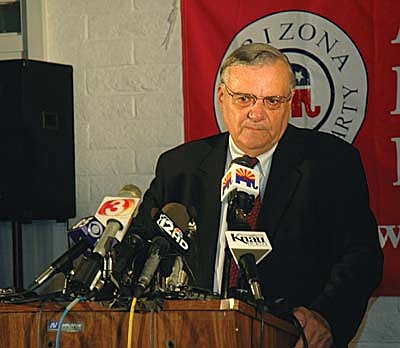 Maricopa County Sheriff Joe Arpaio has filed suit against President Obama challenging his authority to implement changes in immigration policy and allow about 5 million individuals now here illegally to remain. (Capitol Media Services file photo by Howard Fischer)
Stories this photo appears in:
PHOENIX -- Not even waiting until President Obama gave his speech Thursday night, Maricopa County Sheriff Joe Arpaio filed suit in federal court seeking to block the announced plans to allow millions of people not in this country to remain and work here legally.The lawsuit, filed in Washington, claims that the new program as well as Obama's 2012 Deferred Action for Childhood Arrivals are "unconstitutional abuses of the president's role in our nation's constitutional architecture and exceed the powers of the president within the U.S. Constitution.' And Arpaio said even if Congress has granted some power to the president to decide how to enforce immigration laws, these two exceed that delegated authority.
By Howard Fischer
November 21, 2014