"Miner Pushing Ore Cart" by William D White. This painting was part of a series commissioned by Phelps Dodge Corporation in the mid-1930's depicting copper miners. It is owned by the Jerome Historical Society and displayed in its Mine Museum on Main Street. Photo Courtesy Jerome Historical Society.
Stories this photo appears in: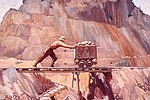 It's easy to speculate about the return of mining to Jerome. Everyone does. I still do. The wealth of mining and its ravages are in your face and under your feet.When I roamed around Jerome and its mountains, I ran into big holes with fences around them and landslides of tailings. I loved throwing rocks down the holes to see how long they would take to hit bottom (seven seconds was the longest). My pockets filled with unusual rocks. I was in leaverite heaven.
By Diane Sward Rapaport
September 27, 2014