Choose to see what you have been perceiving as obstacles on your path to fitness and health as opportunities to become healthier.
Stories this photo appears in: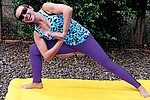 As I was running the depths of the Grand Canyon in May, it occurred to me how perspective explains why individuals looking at the same reality can each perceive it differently.
By By Magdalena Romanska, Ph.D.
July 9, 2015