Pictured is Devil's Bridge. This provides for great picture opportunities as the trail wraps around to the right and out onto the bridge. Usually there is a line to get photos but we caught it on a slow day. VVN photo by Greg Macafee
Stories this photo appears in: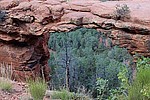 I have lived in the Verde Valley for just over four months, and one of the many things my mom told me before moving out here was you have to go to Sedona, that it's absolutely gorgeous. That is what sparked my interest in hiking, and it is one of the most enjoyable things I have experienced since moving out here.
By Greg MacAfee
July 23, 2015