Ed Wolfe, a former TAC member, says use of the groundwater model commissioned by the WAC shows the Verde River could be threatened should construction explode in the Big Chino basin. The 225 square miles of developable land there could support more than 72,000 possible homes. He says that would demand 18,000 acre feet of groundwater reducing the reduce the base flow in the Verde River in 90 years by 25 percent. Thinkstock.com
Stories this photo appears in: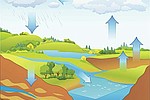 VERDE VALLEY -- Some Yavapai County residents have been calling in advocacy columns for the Yavapai Water Advisory Committee to be restored in one form or another.
By Jon Hutchinson
March 19, 2015