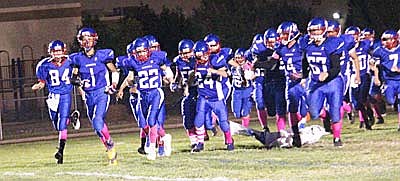 The Camp Verde Cowboys take the field Friday night for their game against the Paradise Honors Panthers. It was the last home game for the seniors on the football team. At halftime seniors Trevor Heyer, Jaysen Leonard, Dakota Brueland, Bryce Wantland, Thomas Herrera, Jordan May, Jesse Etienne, and Chandler Crittendon were honored for their dedication to the program. (Photo by Greg Macafee)
Stories this photo appears in: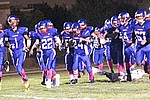 Last week after the Cowboys took a loss against #2 Joy Christian, Head Coach Steve Darby talked about two players that they were going to have to prepare for when they took on the Paradise Honors Panthers.
By Greg MacAfee
October 24, 2015