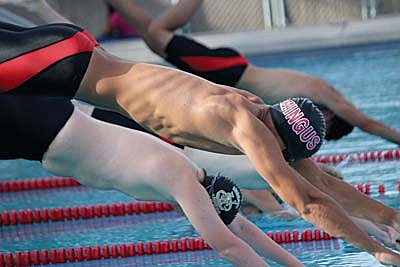 Mingus swimmer Sean Williams dives into the pool at the start of the 50m freestyle against Verrado earlier this season. Williams automatically qulaified for states this weekend at the Wolves Classic. He finished the 50m freestyle in 22.35 seconds and the 100m freestyle in 50.05 . (File Photo by Greg Macafee)
Stories this photo appears in: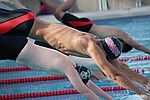 On Saturday, the Mingus Marauders swim team traveled to Chandler to compete at the Wolves Classic, and the first qualifying meet of the year. 44 teams competed at the Mingus boys placed 23rd out of those 44 teams, which were mostly Division 1 schools, Mingus is a Division II program.
By Greg MacAfee
September 22, 2015