One can do yoga stretches anywhere, any time.
Stories this photo appears in: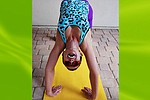 You would ask, what should you do to become more flexible? Unlike other types of fitness (such as cardio), there are no guidelines. What you do depends on what part of your body you need to become more flexible and on where you are at the starting point and what your goals are. Usually, you work towards your flexibility through increasing the range of motion (ROM).