Donald Stratton, Lauren Bruner, Lou Conter, Ken Potts, Lonnie Cook
Stories this photo appears in: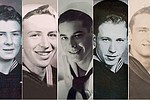 At 7:48 a.m. Dec. 7, 1941, over 350 Japanese fighter planes, bombers and torpedo planes descended on the U.S. Pacific Fleet docked in Pearl Harbor, Hawaii. By the end of the two hour sneak attack, 2,403 Americans lay dead and 1,178 had suffered wounds. Nearly half the casualties occurred aboard the ship USS Arizona.