President-elect Donald Trump and GOP lawmakers have made overturning the Affordable Care Act a top priority, as record numbers of people are signing up for "Obamacare" coverage. Their coverage will likely remain in place for at least the year, experts say. (Photo by Alex Proimos/Creative Commons)
Stories this photo appears in: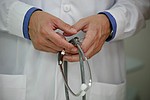 More than 100,000 people rushed to sign up for Obamacare on the day after the election, despite President-elect Donald Trump's promise to repeal the Affordable Care Act in his first 100 days in office – or perhaps because of it.
By By ALLIE BICE - Cronkite News
December 30, 2016