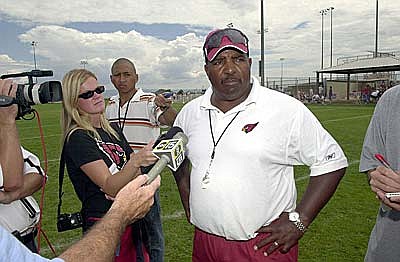 In this Aug. 6, 2005, file photo, former Arizona Cardinals head coach Dennis Green talks to the media after a no-pads scrimmage during training camp at Pioneer Park in Prescott. Green died of a heart attack Friday. He was 67.(File Photo courtesy of The Daily Courier)
Stories this photo appears in:
Former Arizona Cardinals coach Dennis Green, is probably best known for his rant: "They were who we thought they were, and we let them off the hook," Green angrily shouted, hitting the podium at his after game press conference. Green, was angry after his Cardinals blew a 20-0 halftime lead against the Chicago Bears in 2006. Green died from complications of cardiac arrest late Thursday night. He was 67.
By J.T. Keith
July 23, 2016