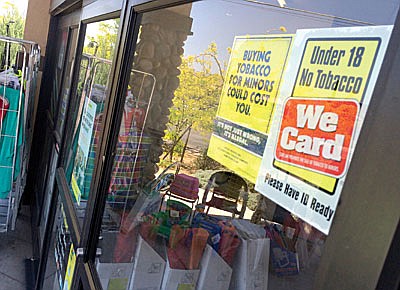 Cottonwood businesses are going to have to change the signs in the their windows in less than month when the new age restrictions for buying cigarettes in the city go into effect. VVN/Vyto Starinskas
Stories this photo appears in:
COTTONWOOD -- A number of professional lobbyists populated the audience as the Cottonwood City Council debated Ordinance 620. The new code amendment raises the legal age from 18 to 21 to purchase and possess tobacco, nicotine alternative and vapor products. After nearly three hours of debate, the council approved the ordinance unanimously.
By Jon Hutchinson
May 5, 2016