A truck takes a turn at the Wilshire road intersection in Camp Verde. It is the first proposed roundabout west of the 260-freeway overpass. (Photo by Bill Helm/VVN)
Stories this photo appears in: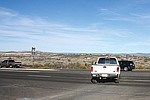 The state added back $423,000 for design and $8.9 million for construction, bringing the construction budget back up to $58.7 million.
By Jon Hutchinson
May 28, 2016