Attendees go bump in the night during last year's Jerome Ghost Walk. 'Voices from Jerome's past: Gone but not forgotten" is the theme of the 13th annual event. (VVN/ Vyto Starinskas)
Stories this photo appears in: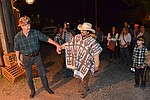 JEROME - Crumbling walkways, spooky old buildings and century-old relics may be a recipe for Halloween in other towns. But for Jerome, it's just another night on the town - - except for the added twist of being visited by denizens of the past during the sold-out 13th Annual Jerome Ghost Walk, Oct. 7 and 8.
By Tom Tracey
October 3, 2016