Forest Service work crew doing maintenance on Pig Tail Trail. Photo courtesy of Red Rock Ranger District.
Stories this photo appears in: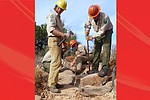 Ask any Village resident or visitor, "What's the main attraction to our area?" The response is obvious: "The red rock formations, plants and animals that make it such a wonderfully unique environment." Then ask: What's the greatest man-made asset in the area?" The answer might not be as obvious.
By Dan Blaettler, Sedona Red Rock Trail Fund V.P.
April 29, 2017