Photo by Denise Domning
Stories this photo appears in: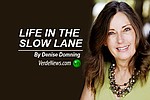 So, I'm sitting at my desk watching the day steadily darken with the eclipse. Unfortunately, there's nothing to see. Here in Arizona, the place famous for 360 days of sunshine a year, it's cloudy. That fact is likely to save my eyes. I can just imagine myself shooting a glance skyward without thinking. Yep, with only four chapters left in the book, it's safer for me to stay inside.