Joe Arpaio, when he was still sheriff, at a 2012 press conference challenging the validity of Barack Obama's birth certificate. Defeated in his own 2016 reelection bid, Arpaio now is weighing a run for some other office. (Capitol Media Services file photo by Howard Fischer)
Stories this photo appears in: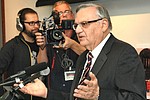 Just days after having his criminal conviction wiped out with a pardon, former Maricopa County Sheriff Joe Arpaio is weighing another bid for public office -- perhaps against Jeff Flake.