Stories this photo appears in: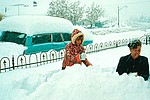 Fifty years ago, the absolute silence in Clarkdale on the morning of December 13, 1967, woke me up. The outside stillness brought back childhood memories of winters in Massachusetts when a heavy snowfall that had started during the night would muffle the outside world under a white blanket.
By By PAUL A. HANDVERGER, Special to Verde Valley Newspapers, Inc.
December 13, 2017