Left photo: This image above includes two artifacts. On the left is the red dyed plain weave with a design applied with a stamp or roller. On the right is the tapestry of blue-gray and red dye on a crème background.
Right photo: This is the dark brown tie-dye pattern of corn kernels or snake skin. (Photos courtesy of Verde Valley Archaeology Center)
Stories this photo appears in: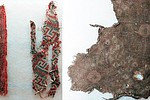 The Verde Valley Archaeology Center (VVAC) has announced the opening of a new exhibit of ancient textiles from the Paul Dyck Rock Shelter in Rimrock.