Border Patrol agents line up in formation on motor bikes in the Tucson sector. A Senate committee gave preliminary approval to a measure that would lift a lie detector requirement of some Border Patrol applicants, as the agency works to hire thousands of officers. (Photo by Josh Denmark/Customs and Border Protection)

Stories this photo appears in: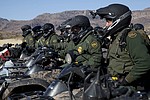 A Senate committee Wednesday approved a bill that would make it easier to hire Border Patrol officers by waiving polygraph tests for applicants who are current or former military, police or other law enforcement officers.
By By MEGAN JANETSKY, Cronkite News
May 18, 2017