Gavin Collins pitches at Camp Verde while in high school in 2012. After playing at Muscatine Community College and University of Illinois at Springfield, Collins signed with the professional Westside Wooly Mammoths in metro Detroit. (VVN File Photo)
Stories this photo appears in: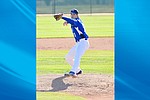 Now able to harness his powerful arm better, Camp Verde High alumnus Gavin Collins is living out a dream.