Leann Weber (left) and Jake Weber sign the paperwork to finalize sale of the Weber's IGA market to the Clark family of Aspen, Colorado, along with their son Josh and a portrait painting of their daughter Lisa. Photo courtesy of Stacey L. Beck.
Stories this photo appears in: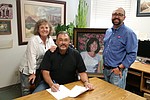 It's official! As of June 1st, Weber's IGA, our "Hometown Proud" Market, is now a Clark's Market. This is the first Arizona store for the Clark's Market family, which is headquartered in Aspen, Colorado. They own and manage six other locations in Colorado and one in Utah, all in rural and/or resort communities. Clark Markets are affiliated with the network of Associated Food Stores.
By Nancy McLean Brown, Special to The Villager
May 30, 2017