Dave Norton is treasurer of the Big Park Community Coordinating Council.
Stories this photo appears in: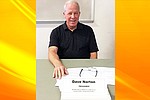 Who do you represent on Big Park Council and what kind of member is it: RAM (Residential), BOA (Business Owner) or EIM Educational Institution)? Briefly describe its character or if anything makes it unique.