This is the quilt that the Quail Country Quilters will raffle at the Oct. 13-14 Covey of Quilts show at Cottonwood Middle School. Tickets are $1 each or $5 for six tickets. Pictured are Quail Country Quilters Janet Washburn, Charlene Dockray, Bev Lawrence and Janet Berry. (Photo by Vyto Starinskas)
Stories this photo appears in: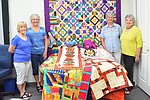 They call themselves the Quail Country Quilters, and with a name like that, it's clear that each of the group's members finds quilting to be about as good as anything.