Beth Bustya teaches both science and mathematics to Clarkdale-Jerome School sixth graders. She says that educators "need to be held accountable for teaching students what they are required to know for their grade level. But that accountability should not come from one test, given once a year." (Photo by Bill Helm)
Stories this photo appears in: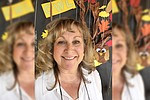 CLARKDALE – Beth Bustya is not a fan of the education system's standardized testing. It's actually the one thing she dislikes about her commitment to the children of Clarkdale-Jerome School.