Two skateboarders head down the switchbacks on SR 89A from the top of Mingus Mountain toward Prescott on Labor Day Weekend. (VVN/Vyto Starinskas)
Stories this photo appears in: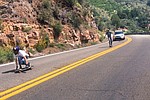 JEROME -- Two skateboarders zoom down a switchback on Mingus Mountain over the Labor Day Weekend. It happens so fast, motorists wonder what they just witnessed.