Personal trackers based on satellite technology have a distinct advantage over cell phones in that they can deliver a signal where cells phones cannot. In this incident, the device was a critical factor by providing GPS coordinates to aid rescue personnel.
Stories this photo appears in: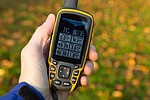 Yavapai County Search and Rescue Team's Backcountry Unit rescued a missing father, son and dog last month near the Wet Beaver Wilderness area, according to a Yavapai County Sheriff's Office news release, thanks to their satellite tracking device.