Slow-witted Forrest Gump (Tom Hanks) has never thought of himself as disadvantaged, and thanks to his supportive mother (Sally Field), he leads anything but a restricted life. Whether dominating on the gridiron as a college football star, fighting in Vietnam or captaining a shrimp boat, Forrest inspires people with his childlike optimism. But one person Forrest cares about most may be the most difficult to save — his childhood love, the sweet but troubled Jenny (Robin Wright).

Stories this photo appears in: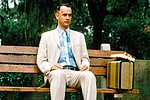 The Sedona International Film Festival is turning 25 this year, and to celebrate, we are rolling back the clock and bringing encore screenings of hit films from 25 years ago to the Mary D. Fisher Theatre on the 25th of each month! And better yet … SIFF is rolling back the tickets to the admission price of 25 years ago for these special events: just $4.25 each.