Photo by Denise Domning
Stories this photo appears in: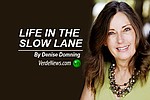 Before I throw myself into this week's post, I have to kvetch over the recent full moon. I know everyone was going on about it being this blue-blood-full-eclipse moon, but why didn't someone warn me what that meant? Here I was, figuring this was a full moon like all the other full moons I suffer through, what with the coyotes showing up and Bear barking all night.