The newspaper's original owner, Richard Brann, purchased a government surplus Quonset hut from the U.S. Army in the aftermath of World War II, and set the building on a foundation in what was considered at the time an industrial park on the outskirts of Cottonwood, more commonly known today as Old Town. That building at 116 South Main St. – complete with its original river rock façade -- is still in use today as the office for Starlight Publishing's Ad King, and as the newsroom for the Verde Independent, Camp Verde Bugle and Kudos.
Stories this photo appears in: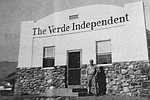 The Verde Independent's debut issue, at 10-cents a copy, hit the streets in Cottonwood and Camp Verde Feb. 12, 1948.