Many Mingus softball players took part in the dress as the other gender day of spirit week. "We're kinda like sisters, we're like a family, we really like each other, we really have fun together, we love the game of softball," said junior captain Lacey Saravo. (VVN/James Kelley)
Stories this photo appears in: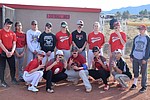 After last year's break through season, the deep Mingus Union softball team looks to have even more success.