Left front, W. Jess Siler Warehouse (rebuilt as Tavern Hotel); Left Center, "Siler Store" and the roof of the south part of the 1917 Bungalow, with Bessie Siler's laundry and dry cleaning in back and the long "feed and seed" addition along the south side. The Chokree Gobins Building across the street has the words "Verde Valley Distributing Co." across the front.
Stories this photo appears in: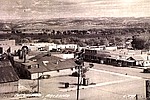 Mr. Gobins hired Architect A. L. Gilford to design his new building and Contractor George Barnett to build the structure.