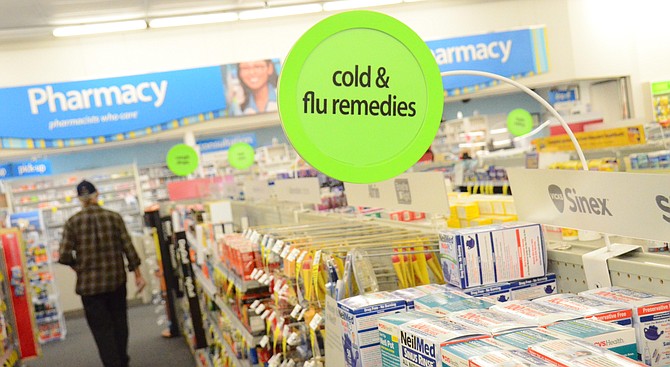 There's plenty of remedies for the flu on the shelves at CVS in Cottonwood, but the pharmacy is out of Tamiflu, a popular antiviral medicine for treatment of flu which must be prescribed by a doctor, according to CVS Pharmacist Dan Tutelman on Friday. The local pharmacist said he has called pharmacies all over Northern Arizona looking for Tamiflu, but everyone seems to have run out early because of the unusual flu season. CVS Pharmacy is giving flu shots everyday now and he said it's not too late for this season. The season extends into February and March. It's more dangerous for children under two and seniors over 65 years of age, he pointed out, because of a less of an immune response. It takes two weeks for a flu shot to take effect, the pharmacist added. VVN/Vyto Starinskas
Stories this photo appears in:
Influenza activity is at record levels in Arizona and there are several hospitals statewide experiencing long emergency room wait times due to the increased number of sick Arizonans. After consulting with healthcare and public health partners, the Arizona Department of Health Services is advising ill people to only seek emergency medical care if they are at high risk for serious complications or are experiencing severe symptoms.
By Arizona Department of Health Services Special to Verde Valley Newspapers, Inc.
January 6, 2018