The suspect wanted for credit card fraud is described as a white or Hispanic male between the age of 20 to 35. He is believed to weigh 125 to165 pounds, is 5 foot 7 inches to 6 feet in height, with brownish colored hair and what appears to be facial hair along his jaw line. (Photo courtesy of YCSO)

Stories this photo appears in: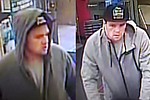 Police are searching for a suspect who allegedly stole a credit card from a Cornville mailbox and racked up more than $30,000 in purchases.
By Staff Reports
January 25, 2018