In The Rider, Brady Blackburn suffers a devastating head injury after he was thrown from his horse in the rodeo and he has been told by doctors that he should never ride a bronco again. Any mishap would have dire consequences. That is the true story about Brady Jandreau, who plays the role of Brady Blackburn.
Stories this photo appears in: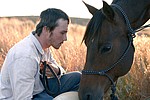 The Rider is based on real people and events, with a cast of players who never appeared in a movie before. Director Chloé Zhao was ready to sign a rodeo star to appear in her next film.