Clark Memorial Clubhouse
Stories this photo appears in: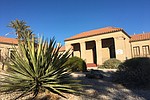 Town Manager Gayle Mabery informed the Council she will be retiring July 1, 2019. The Council will take possible action to change the employment agreement between the Town and Mabery to coincide with her retirement date. All other provisions of Mabery's contract remain.