Regardless of agree-disagree, committee member Anita Glazar said she wants "to stick with the committee to see whether a consolidation would work."We keep saying we haven't come to any conclusions," said Glazar.
Stories this photo appears in: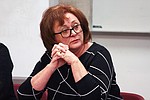 COTTONWOOD – About half of the Advisory Committee for Consolidation say that things are going nowhere. For the others, meetings are helping uncover vital information for the public to eventually decide whether Cottonwood-Oak Creek and Mingus Union school districts should merge into one.