Book Club is a totally fun movie to see punctuated by excellent acting by Diane Keaton, Jane Fonda, Candice Bergen and Mary Steenburgen.
Stories this photo appears in: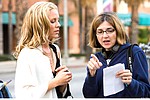 It often happens that a movie will be made with a number of big name stars that make it very attractive, but the appeal ends with the cast list. The story or the production may be poor all around.