Cottonwood police say a "road rage" incident prompted this two-car crash Monday morning near the intersection of South Main Street and East Ash Street. One the drivers was charged with reckless driving, disorderly conduct and no proof of insurance, all misdemeanors. VVN/Vyto Starinskas
Stories this photo appears in: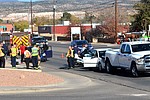 A 52-year-old Cottonwood man was yelling at the driver of a small sedan before he pulled in front of him in his pickup truck, slammed on the brakes, caused an accident, and got out in a "fighting posture," according to Cottonwood Police Sgt. Monica Kuhlt Monday.