Saturday, Sept. 15, 7-10 p.m., Vino Di Sedona features Chris Seymour and Rick Cyge. Seymour & Cyge combine their unique individual talents that contrast and complement one another into a single collaborative sound, Seymour & Cyge.
Stories this photo appears in: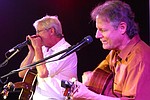 Vino Di Sedona is the place to be on a Wednesday night listening to Rick Busbea, Sept 12, 7-10 p.m. Rick does play some original music, but his passion is cover songs to take his audience down "memory lane." This belief led to the creation of the "Rick Busbea Jukebox" so his audience can pick favorite songs for him to play.