"Global Warming, first place by Robert Michaels, is an "in your face" social statement about the future of earth. Pristine snow covered mountains surround the figure. A closer examination, however, of the midrange of the composition shows small icebergs and glaciers melting into the water swirling around the ankles of the figure.
Stories this photo appears in: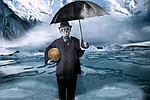 Sedona based international artist/photographer, Robert Michaels is pleased to announce receiving the First Place award in the prestigious international juried Bauhaus Prairie Art Gallery Competition under the art theme "Creative Inspiration."