One of the fat-free tricks is to… add flavor. Lots of us would mistakenly believe that non-fat, organic, Greek yoghurt with FRUIT at the bottom is something truly great to eat.
Stories this photo appears in: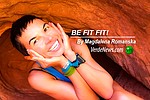 What?!?!?! Yes, we, actually, should be getting 20-30% of our daily calories from fat! And these calories will not make you… fat! Actually, if you eat excess calories form any source, being it carbs, fat, even proteins – you will, undoubtfully, gain weight. Yep. Tough luck.